Fun Cheese
(experiential activity)
Various special programs will take place throughout the festival!
There will be interesting cheese-related experiential activities, colorful exhibitions and sales events.
Cheese Olympic Playground
Take part in cheese-related activities and experience the unique cheese olympics
1. Permanent Experiential Programs (Venue: Experiential Activity Booth)
① Cheese Curling: Slide yellow, cheese-like curling stone into the circular target
② Cheese Archery: Hit cheese targets in this archery experiential activity
③ Table Soccer: Enjoy soccer using hands (table soccer)

2. Events
① Special Mission! Saving Private Cheese! (Venue: Windy Hills)
Avoid obstacles and bring back mega-size cheeses
- 2-person competition / First person to arrive wins a souvenir
Who Moved My Cheese?
Roll, carry, stack and move the cheese!!
Triathlon relay using cheese models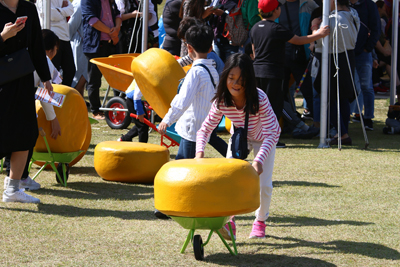 Marionette Experiential Activity
Get to know the traditional dolls of Europe
- Marionette is a doll controlled from above using strings
Cheese Fairy Peach Character Event
① Peach eco bag making
② Character Florium making
Descendents of the Cheese! Military Experience
Experience military life
with the 35 Infantry Division stationed in Imsil County
1. Military uniform dress-up experience (free of charge)
- Children & adult military uniforms
- Combat caps and accessories
2. Imsil N Cheese & Ramen Noodles In Love (paid experience)
Amour Cloche Event
Write your name on the love bell
  Hang your promises of love on designated structures
재밌는 치즈 체험프로그램
Imsil N Cheese Street Food
(food trucks)

Simple festival food
① Fresh fruit juice and drinks
② Chop steak
③ Meat and rice cake skewers
④ Salad pasta

Windy Hill ZONE

① Sledding on grass hills
② Kite flying
③ Trampoline air bounce

Happy Food
Coal-fired Pizza Experience

ake your own coal-fired pizza in a large coal oven

The Little Cheese Girl

A cheese-sharing performance where Little Cheese Girl goes

Dairy Experience

Milk cow milking, milk feeding, hay feeding

Make Your Own Personal Pizza

My own pizza made with Imsil N Cheese

Imsil N Cheese Craft Experience

Cheese sculpture making experience using Imsil Cheese

Cheese Science Education Program

Venue: Laboratory of the Imsil Cheese Science & Research Institute
- Observation of microorganisms in fermentation (lactic acid bacteria): Microscopic observation after Gram staining
- Lactobacillus culture experiment

Cheese Ice Cream Ball Experiential Activity

Make and eat ice cream while having fun with your family running and kicking ice cream balls

European Costume Dress-up Experience

Dress up in European costumes at the European-style theme park